Ron Trueman-Border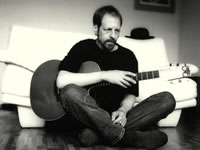 Nottingham born Ron spent his formative years in Chislehurst and has never lived far from South East London. He now lives in Sidcup and regularly plays the club and pub circuit in Kent and around London. Ron's performed at some of the UK's most prestigious festivals in the last few years - including Broadstairs and Guernsey.
Ron's music encompasses blues, jazz and folk - delivered in an individual and entertaining style. He's a talented guitarist and a prolific songwriter - as a running tap is to water, so is Ron to songs.
Reviews
"Ron writes and sings with enormous depth and feeling. While listening, you might think Dylan? Springsteen? Clapton? - but the songs are most definitely Ron Trueman-Border!"
"He is a performer who never seems to lack inspiration and his invention never flags."
"The most important singer-songwriter to emerge in Kent - one of this country's most innovative songsmiths."
Gigs
Recordings
Dispatches

KM 031 CD
Tracklisting: Elizabeth James | Innocent Kind | Twenty Five | Suburbia | Ugly As Sin | No Mans Land | When The Bough Breaks | Danger Zone | Wild Rose | Chinese Lanterns | Mary | The Evil That Men Do | Fisherman A Long Way From The Sea | Danger Man
Unrequited
KM 032 CD
Tracklisting: Unrequited | Same Boat | Salt In The Wound | Dharma Bums | Peter Green | Sit And Watch The Sun Go Down | Smokey Joe | Night Of The Hunter | Angel Of Mercy | O.H.N.D. | John Wayne | East End Saturday Night | Chains Of Love | She Couldn't See For Crying | Raging Sea | Always Blue | News Of The World | Hedgerow Blues | Strange But True
Trust

KM 033 CD
Tracklisting: 21st Century Blues | The River's So Wide | Cinderella Shoes | Rats | Amsterdam | Rosie On A Sunday | Marie Celeste | Death Of A Soldier | Partners In Crime | Drunk | Colours | Jeanie Of Kilbride | Our Lady Of The High Rise | Blind Lead The Blind | On The Shelf | Trust
Heathen
KM 034 CD
Tracklisting: Hell Or Waters High | Bad Days | Whiskey And Beer | Weeds | Diamonds Through The Coal | Silvertown | Brighton Belle | Tired And Emotional | Portobello Road | Rest You Easy | Ring Those Changes | James Redwood | Have A Little Faith | Right To The Bone | Whatever Floats Your Boat | Close To The Wind
American Ghosts

KM 035 CD
Tracklisting: American Ghosts | Unbowed | Robin In The Rain | Wash My Sins Away | Green | Ghosts On The Dance Floor | Gentlemen Prefer Blondes | Kings Cross Station | Monsters | White Horse Hill | Kittens | Romeo And Juliet | Tom O' Bedlam | Sail Away | Rose Of Trelawney | Morphine | Needle And Thread
Now Then [with John Scott Cree]

KM 036 CD
Tracklisting: Death Of Me (My Oh My) | Playing With The Big Boys | Don't Allow | Weeping Willow Blues | Singing My Future Blues | The Last Protest Song | Satisfied (Never Been) | Freedom's Torch | Long-Legged Woman | The Carrots Song | Burn Up | Dirty Job | Angel | King Of The Blues | The War Game | A Wing And A Prayer
Breaking Hearts

KM 037 CD
Tracklisting: Breaking Hearts | Hurting One Another | Don't Give Up | Black-Eyed Sally | Tearing My England Down | Hyenas | Everybody's Looking For Love | Blue As Your Eyes | Anyway | If It Don't Kill Me | Luck Of The Irish | Old Man Of The Sea | Wrong Tree | Chained To The Rails | Good If She Tried | 16. Wounded Knee | Sister Moonlight | Cat O' Nine Tails | Million Years | By My Side
Requests

KM 038 CD
Tracklisting: Angel Of Mercy | Partners In Crime | Chinese Lanterns | 21st Century Blues | American Ghosts | Peter Green | Satisfied (Never Been) | Silvertown | Anyway | Whiskey And Beer | Drunk | Morphine | Whatever Floats Your Boat | Cinderella Shoes | Blind Joe Flynn | Gentlemen Prefer Blondes | She Couldn't See For Crying
Ghosts Live - Rough & Ready [with Paul Sirman]

KM 039 CD
Tracklisting: Hard Times | Rats | Light To Guide Me Home | When The Working Day Is Done | She Couldn't See For Crying | Weatherman | Raging Sea | Wings | Fly | Old Friends | Rose Of Trelawney | Life In The Old Dog | Harvest Home | Angel Of Mercy | Diamonds (In My Own Backyard) | Closing Time
Perfect Strangers - Chase Me Girls I'm Chocolate

KM 040 CD
Tracklisting: Shine | Sex 'N' Violence | Scared | Poor Man (Soul In Chains) | 5. Falling Down | Hell Freezes Over | Covered In Blood | Dead Soldiers | 9. Faded Rose, Funny Valentine | Valentine | Body And Soul | 12. Battered Wives | Otis | Chase Me Girls I'm Chocolate
Innocents Abroad

KM 041 CD
Tracklisting: Nightingale | Knife | Tears Over My Bones | Never Again | Sleaze | Withered On The Vine | Shoes | Sirens | King Of Make Believe | White Lies | Fool For You | Dark Lady | Let It Rain | Buddy | Unicorns
Ghosts - Revenants [with Paul Sirman]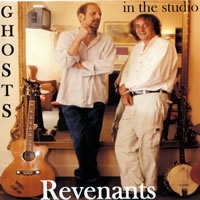 KM 042 CD
Tracklisting: Luddites | Down By The River | Treadmill | Australia | Angel Of The North | Life Goes On | Men Of Steel | Costing The Earth | Lost At Sea | Children In Need | Bloody Shame | Guy Fawkes | King And Country | Tools Of The Trade
Perfect Strangers - Appropriately Wrecked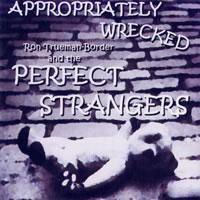 KM 043 CD
Tracklisting: Down The Road And Gone | Pretty Blue Shoes | Thinner | Drug | Down In The Gutter | To Love A Woman | Kenilworth Street | Hold On | Miracle | Oxford Blues | Angel | Blue Eyes | Must Be Love | Seriously Suicidal | Hope
Two Tears

KM 044 CD
Tracklisting: Injustice | Darren Day | Emperor's New Clothes | Rain | Snake Eyes | You're Going To Miss Me | Old Kent Road | Alcohol | Queer | Everything's Wrong | What He Can't Get At Home | One Track Mind | David | Brand New Day | My Mother's Bones
Children in Need

KM 045 CD
Tracklisting: Children in Need | French | Endcliffe Park | Tastefully Done | Sweet Charity | Delilah
Ghosts - Two Gentlemen of the Road [with Paul Sirman]

KM 046 CD
Tracklisting: Laugh | St Patrick's Day | Cold Wind Blowing | Wild Blue Yonder | Lambs | Nylon And Steel | Grave | One Last Round | Pollyanna | Union Street | Drink This Alehouse Dry | Red White And Blue | Last Working Man | Mary Jane | Poor Man's Pay | St George | Sweet Virginia | More Fool Me | Roll On Mighty River | Two Gentlemen Of The Road
Further Information