Andy Caven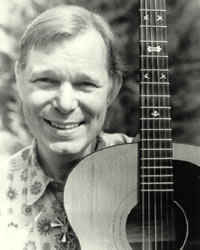 Andy Caven reduced Rock 'n' Roll and R&B to their simplest components with various bands in the Midlands. Collaboration with keyboard player Charlie Stallard added at least 3 more chords to Andy's limited repertoire. The formation of an acoustic-electric band Songs forced him to buy an acoustic guitar (50/- from a junk shop in Stafford) and PA equipment which regularly responded to the flick of the "on" switch. Folk-singer/songwriter Rosie Hardman was persuaded to hire Andy as her Road Manager and Sounds Engineer, until Andy met Dave Moses and toured Germany with his band Friedemann & Moses. Andy's solo single escaped from Transatlantic to be followed by four albums on vinyl, cassette and even CD.
Andy has been spotted supporting Joe Brown & The Bruvvers, collaborating in a duo with Steve Harley's lead guitarist Robbie Gladwell, keeping the key to the medicine chest for The Elderley Brothers and fronting various versions of The Somethin' Else Band - besides fitting in his usual extensive solo tours of the UK.
Andy's repertoire extends far beyond his own songs to include Neil Diamond & Neil Young, Elvis Presley & Elvis Costello, Jim Webb & Eddie Cochran, Buddy Holly & Graham Nash, Jackson Browne & Roy Orbison, Robert Johnson & Bob Dylan, Van Morrison & Jesse Winchester, Eagles & Everlies, Cliff Richard & Bob Marley...
Comments
Dave Pegg: Andy Caven is a remarkably gifted singer-songwriter with a fine sense of humour - what's more - he knows his Rock 'n' Roll.
Harvey Andrews: With a voice like that Andy should be making hit singles.
Eddie Walker: He writes his own songs, picks the best of other people's and can be enticed into playing the best folk 'n' roll medleys you're likely to hear.
Recordings
It Must Be Love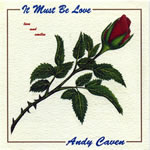 It Must Be Love is a gentle record of 7 self-penned and 5 songs by other superstars including If by David Gates, Simple Man by Graham Nash and Sara by Bob Dylan. As the title suggests, this is an album of love songs, and I would advise that a box of hankies be kept handy. Andy has been playing on the folk scene for quite a few years, and he admits to being a Buddy Holly and Rock 'n' Roll fan. Here he is ably assisted by The Rubitons (Jon Atack, drums; Eric Thacker, guitars; Tony Hawkins, guitars; Roy Ashby, violin; Dave Phizacklea, bass; Richard Bailey, synthesizers) and extra backing vocals from "Waterfall". All the tracks have very tasteful arrangements, with nice lead guitar on Simple Man & Come On Home To Me (my own favourite track). The album is much along Bread or CSNY lines, and would be great along with a candle-lit dinner for two!
[I must include hankies and meal vouchers with future albums!]
Tracklisting: It Must Be Love | If | A.D. | Our Lady | Simple Man | LoveAnd Smiles | Another Lonely Night | Come On Home ToMe | (By The Time I Get To) Phoenix | Sara | Story | Georgia On My Mind.
Early Days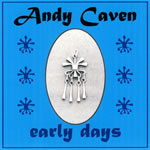 This recording of Andy solo includes many of the favourites that he sings around the folk clubs. It's well packaged and produced, and contains 18 tracks. If you've been wanting something which is folk rather than rock - this is for you.
Tracklisting: Simple Song | Once I Had A Sweetheart ! | Her Father Didn't Like Me Anyway | The Boatman | The Fiddler Man | Fiddlers Green | The Band Played Waltzing Matilda | Jacknife | Blues Comin' Through | Poem | Mercedes Benz | No-one Knows! | Madeleine | Teddy Bear | Yankee Lady | Exit | After The Goldrush | Song For A Neighbour.
Songs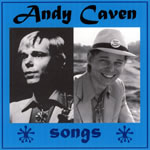 CD tracklisting:Marion Davies | Sincerely Hopeful | Eleanor Rigby | My Marie | Mister Tambourine Man | Our Lady | Songs | Sara | Do The Dance Now Davey | Fire | Happy Ending | Come On Home To Me | Well, Alright
Cassette tracklisting: Marion Davies | Sincerely Hopeful | Eleanor Rigby | My Marie | Mister Tambourine Man | Our Lady | Well, Alright | Sara | Do The Dance Now Davey | Fire | Happy Ending | Come On Home To Me | Songs.
Dance Lady Dance / Out on a Cloud
Pebble Beach / Transatlantic PBR 2
Further Information