Steve English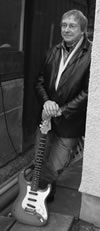 Somehow Steve was always too busy earning his living by playing & singing with the pick of the local bands to get around to putting down anything in the studio. Perhaps there didn't seem much point in recording the covers they played live – however perfect the performances.
Even when Steve added his own songs to the repertoire, their popularity didn't prompt him to rush into the recording studio. Now, at last, Steve has realised that he has more than enough original songs and ideas to commit to an album. Those songs are strong on social comment, but spiced with witty and humorous asides.
Steve's musicianship and arrangements have been honed by all those years of gigging. This new album ranges from the subtle and sensitive to the powerful and energetic. Steve is his own man – but I'm sure Paul Weller would be proud to present an album of songs such as – Hollerman.
Recordings
Hollerman

KM 073 CD
Tracklisting: Tell It Like It Is ~ Treason ~ Change In The Weather ~ Don't Let The Door ~ Here And Now ~ Junkyard Angel ~ Hiding To Nothing ~ The Dice Man ~ Shameful Love ~ Happy To Be Hurting ~ Mention Me In Passing ~ No Rest For The Wicked ~ A Body To Die For ~ Powerful Lovin' Seed.